Instantly create horror movie title slates in Premiere Pro with this free motion graphics template.
Ready to start promoting your horror movie or thriller? This easy-to-use Premiere Pro template helps you create high-end trailer slates, and it's FREE! That's right. Free to use in personal or commercial projects. Minimal Pedigree is a free motion graphics template (mogrt) that you can use to create terrifying titles. Just add the template to your Premiere Pro timeline and customize them all inside of Premiere Pro – no After Effects needed!
Easy to Customize Looks
Just use the built in menus and checkboxes to turn on and off features, or tweak the text font, size, or color.
Background On
Moody atmosphere built in for an organic look.
Background OFF
Turn off for a clear look, or to layer with footage.
Rough Edges
Erode text with scary-looking rough edges.
Custom Color
Choose your own color for more terrifying looks.
---
Download The Free Premiere Pro Template
Click below to download the free motion graphics template (mogrt) for Adobe Premiere Pro CC.
By downloading, you agree to the Film Bodega Terms of Service. These video elements can be used in any personal or commercial projects, no credit is required. We do not offer technical support on free downloads.
NOTE: Mogrts are only compatible with Adobe Premiere Pro Creative Cloud, use the latest version for the best results.
---
How to Use This Free Premiere Pro Template
There is no way to sugar coat this. Given the intensive effects applied to the animation, background, and rough text, depending on your setting this can take a few minutes to render. That's just the cost of bringing heavy After Effects tools and 3D lights into Premiere Pro. That said, the results are fantastic and it would take just as long to export if a professional motion designer made these for you.

Get Free Stuff Each Month!
Sign up to have free templates, video elements, and digital assets sent directly to your inbox.
This mogrt is built for Premiere Pro, and is only compatible with Adobe Premiere Pro CC. If you are prompted to install After Effects, you merely need to have it installed on your machine. You do not need to open Ae. If your CC subscription does not include After Effects, you can download the included Trial version and this Premiere Pro mogrt will still work.
1. Download and Unzip The Folder
After downloading the file above, unzip the folder in your Downloads folder.
2. Open Premiere Pro Essential Graphics Panel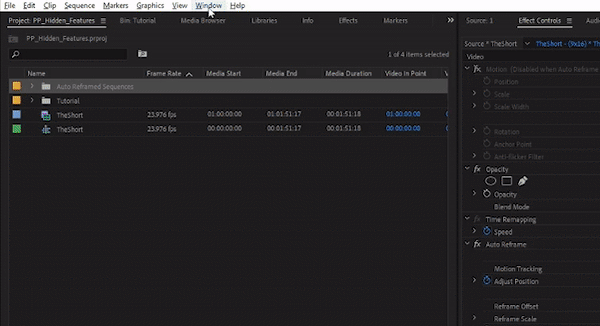 Inside of Premiere Pro, open the Essential Graphics Panel. If you can't find the panel, go to Window > Essential Graphics.
3. Add the FREE Minimal Pedigree template to your library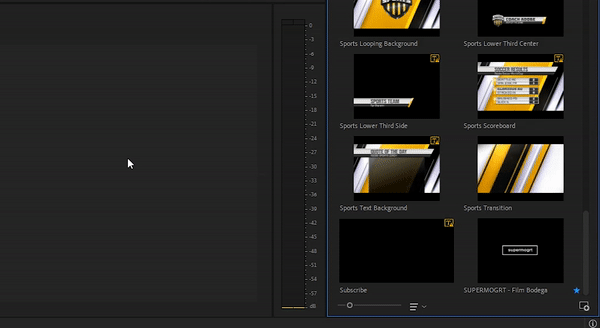 At the bottom of your Essential Graphics panel, click on the "Install Motion Graphics template" icon in the bottom right corner. Navigate to your download and select the "Minimal_Pedigree_1" MOGRT file.
4. Drag and drop the template onto your Premiere Pro timeline
Add the horror titles to your timeline. (The template is defaulted to 1920×1080 but can be scaled up or resized for 4K, vertical videos, and more.)
5. Customize text, font, colors, and more
In the Essential Graphics panel you can change all of the following controls:
Top Text

Font
Font Style
Text Size
Position

Bottom Text

Font
Font Style
Text Size
Position

Style Controls

Glow On/Off
Glow Intensity
Rough Edges

Master Controls
Background
---
Need Horror Sounds and Atmospheres?
Sinister sounds for horror films and dark sci-fi. Dread inducing atmospheric sounds composed for films and trailers.
This collection includes 42 songs and sound effects for you to mix a truly cinematic experience. Listen to samples on the product page.
Dark Sounds | Cinematic Atmospheres and SFX